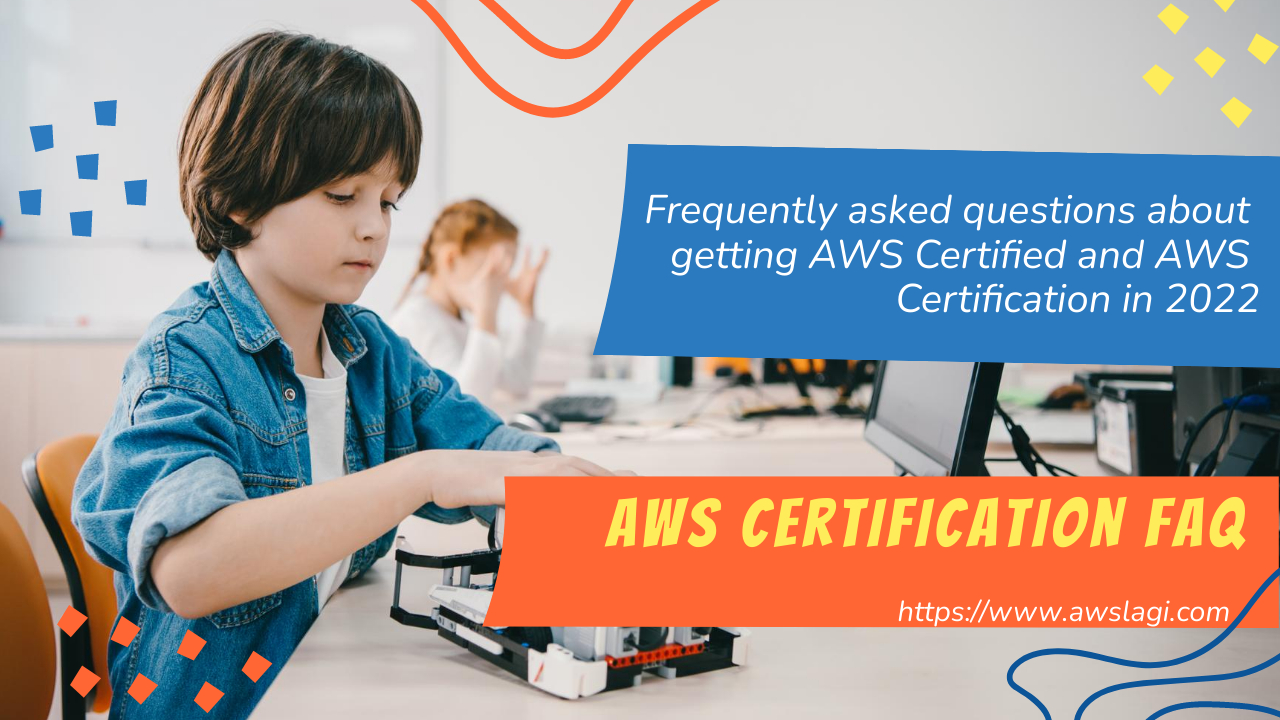 In this article we will talk about the top of most faqs about getting AWS Certified and AWS Certification in 2022. We will help you have a good overview in the AWS certification path.
Top 10 questions:
1. Which AWS Certification is right for me?
In the image below are these AWS Certification available:


Earn tangible benefits to help you showcase your achievements and advance your expertise. Once AWS Certified, you'll be eligible for perks that can help you show off your achievements and keep learning.
2. How can I verify an individual's certification status?
To verify an AWS Certification, ask the earner for an AWS Certification digital badge link. Via Credly's Acclaim platform, we provide digital badges to everyone who earns an AWS Certification to support recognition and verification. Each AWS Certification digital badge has an option to verify it, which checks and displays the issue date as well as the issuer (AWS Training and Certification). Links to AWS Certification digital badges are unique for each AWS Certified individual. Digital badges may also be linked from social media profiles or on personal websites.
You can also verify a digital certificate using the validation number, on the bottom right of an AWS Certification certificate. Earners download certificates from their AWS Certification Account. Once you have the validation number, you can verify the certification.
3. Are there benefits offered to AWS Certified individuals?
In addition to validating your technical skills, AWS Certification gives you tangible benefits to help you showcase your achievement and further advance your AWS expertise. View the AWS Certification Benefits page for a complete list of benefits.
4. What are AWS Certification digital badges?
AWS Certification provides digital badges as a benefit of earning an AWS Certification to showcase certification status. We provide digital badges via Credly's Acclaim platform to offer flexible options for recognition and verification. You can take advantage of one-click badge sharing on social media newsfeeds, tools for embedding verifiable badges on websites or email signatures, and an optional public profile with all earned AWS Certification badges.
5. Are there any mandatory training or exam requirements to take an AWS Certification exam?
Training is recommended as part of your certification preparation, but it is not mandatory for the completion of the certification. Go to AWS Skill Builder to find a learning plan that's right for you.
6. What is the retake policy?
If you fail an exam, you must wait 14 days before you are eligible to retake the exam. There is no limit on exam attempts. However, you must pay the full registration fee for each exam attempt. Once you have passed an exam, you will not be able to retake the same exam for two years. If the exam has been updated with a new exam guide and exam series code, you will be eligible to take the new exam version.
Note that beta exam test takers can take the beta version only once, after which they will need to wait to retake the exam when the official certification exam becomes generally available.
7. When will I get my exam results?
Upon completing most exams, you will receive a preliminary pass or fail notification on the testing screen. However, you may not receive a pass or fail notification on the testing screen upon completing the AWS Certified SysOps Administration – Associate (SOA-C02) and AWS Certified Solutions Architect – Professional (SAP-C01) exams. Your detailed exam results will be available within five business days of completing your exam in your AWS Certification Account, under Previous Exams.
Beta exam results are typically available 90 days (13 weeks) or less from the close of the beta exam. You will be notified via email once your exam results are available in your AWS Certification Account.
8. Which AWS Certification exams are available to take from your home or office with online proctoring?
Online proctoring is available for all AWS Certification exams when you schedule with either Pearson VUE or PSI. Learn more about options for taking AWS Certification exams.
9. Is there an option to reschedule my exam if I cannot make my scheduled appointment?
Yes. You can cancel or reschedule your exam up to 24 hours before your scheduled appointment without additional fees. To reschedule or cancel your exam, go to your AWS Certification Account and click the Manage PSI Exams or Manage Pearson VUE exams button. If you scheduled with PSI, click the "View Details" button on the scheduled exam you wish to manage. If you scheduled with Pearson VUE, you can select the scheduled exam you wish to manage from the Upcoming Appointments menu. Once you reach the 24-hour window before your scheduled appointment, you will not be able to cancel or reschedule your exam. If you miss your scheduled exam appointment, you will forfeit the exam fee and are not eligible for a refund. You will not be able to register again for the exam until 24 hours after your missed exam time. Missing the exam does not result in a "fail" status.
Please note that you may only reschedule two times after scheduling your original appointment. If you wish to reschedule a third time, you must cancel and schedule a new appointment. The reschedule limit will apply to the new appointment. Exam appointments cannot be cancelled less than 24 hours prior to your appointment.
10. How do I register to take an AWS Certification exam?
To register for an exam, sign in to aws.training and click Certification in the top navigation. Next, click the AWS Certification Account button, followed by Schedule New Exam. Find the exam you wish to take and click either the Schedule at PSI or Schedule at Pearson VUE button. You will then be redirected to the test delivery provider's scheduling page, where you will complete your exam registration.
Conclusion
We are awslagi.com team. We're sharing a lot of AWS practice exam and it's free for all.
Quiz format: https://www.awslagi.com/practice-exam
Video: https://www.youtube.com/c/iamawslagi